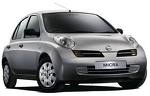 Nissan Motor Private Ltd has introduced the diesel version, Nissan Micra, after the success of the Micra petrol. This model is the first "Made in India" compact hatchback, introduced in Kerala. This model was launched at EVM Nissan, which is the authorized dealer of the company in Kochi. The company hopes that this model will be succeeded in auto market.
According to the official of the Nissan, it's objective is to meet the customer demands. Nissan Micra Diesel comes with the fuel economy of the 23.5 kilometers per liter and it will be available in six different colours. It would be priced RS. 5.59 lakh if it is XV, and Rs. 6.05 lakh if it is XV (premium). It is powered by the 1.5 litre. There is a plan to introduce this car in 175 countries.
The manufacturing of this units would be done in Chennai, which is invested with Rs.4500 crore.