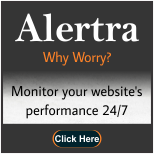 Application performance monitoring is the process of collecting performance data and reporting the status of application servers running in an IT infrastructure. The monitoring tools automatically do the process and are employed by the organizations to gain visibility into the status of critical servers and applications. These tools help them in early detection and in finding the root cause of the problem that could lead to the performance problems. This enables the companies to first know about the issue with the network even before the employee suffers from it. Let us see how this monitoring helps in increasing the productivity of the company.
Helps in identifying and trouble shooting performance issues in the network.
Monitors the ongoing application 24/7 and offers a detailed evaluation of response time and its impact on the network, server, application and end user.
Diminishes risks to application performance and enhances bandwidth capacity.
Tracks and manages new application roll outs and tells the primary cause of the slow response time for a mission critical application.
Identifies data flow of every vital transaction.
Maintains and handles the basic user response times for the important applications.
These are the few benefits of application performance monitoring which in turn help the company to increase their productivity. Many applications
may also include server monitoring tools, database monitoring, virtualization monitoring, cloud monitoring, and web services monitoring. These tools are much useful for the IT managers to monitor and manage their web applications. Since they provide real time reports about the status of the servers and the networks the companies could find them first, even before the employee experiences the problem and prevents him from getting frustrated while serving the customer due to network problems.